Testimonials
Without Thelma's Place –My husband would be sitting on the couch at home staring at the TV or in bed at home sleeping.
With Thelma's Place — My husband receives the stimulation and socialization that anyone with Alzheimer's needs.
Without Thelma's Place — I would not be able to meet all of my husband's needs. I would become burned out taking care of him.
With Thelma's Place — I am able to work and to rest. I am able to run errands and to meet with friends.
Everyone at Thelma's puts their "ALL" into every aspect of care. I trust my husband with them and that is a great trust.
There needs to be more programs like Thelma's so individuals with dementia, their caregivers and their loved ones can stay together longer.
LONG LIVE THELMA'S PLACE!
"Thank you for all you do"!
Great afternoon with mom/gramma at the Hawaiian themed Farm Day BBQ .. Great food, wonderful band playing island tunes, and perfect island (Aurora) breezes…graciously hosted by the Berkey's and CSL staff!! Can't thank them enough for the amazing, unconditional love they show all their residents!!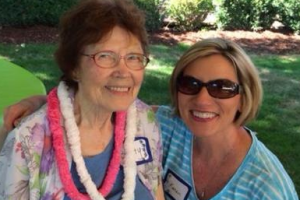 Karen Walsh
My Dad, the "Rock" in My Life, is Crumbling
Conrad Gomez was a big, strong guy who was able to fix any problem for his family, which included 5 children. Always a jokester, Conrad had an amazing sense of humor. He loved singing and dancing. He didn't mind embarrassing his teenage daughters at stoplights by "dancing" in the seat until it was time to drive off. "He was the rock in my life" says his daughter, Rebecca.
Rebecca sees that the rock her father has always been is beginning to crumble now that he is experiencing memory loss. "At first there was lots of denial and as his dementia progresses, there's so much sadness as I watch him try to do things that were so easy for him at one time. I'm truly a very lucky daughter to have such a great dad. His love of music as well as his sense of humor and ability to make everyone around him laugh was such a huge part of his life—of OUR life. Thankfully, that part of my dad has not changed at all", says Rebecca.
According to an AgingCare.com article, a good laugh may be the best medicine when it comes to treating dementia. New research, called the SMILE study, conducted by Australian researchers indicates that laughter may be just as effective as antipsychotic medications for reducing anxiety in people with dementia.
Since agitation and anxiety are often the root causes of outbursts and wandering in people with dementia, being able to reduce these feeling would improve the quality of life for those with the disease.
Thelma's Place, a respite center for people living with memory loss, appreciates Conrad's ability to sing, laugh and tell jokes. Rebecca and her family are so thankful that Thelma's Place is here to support her dad and others who come as often as 4 days a week. Visit Thelma's Place Facebook Page to hear Conrad sing.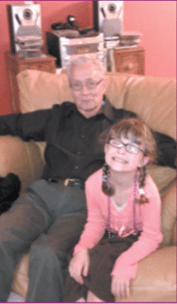 Conrad Gomez
I first learned about Thelma's Place when a friend introduced me to the monthly workshops open to the community for all who are either experiencing memory loss or are caregivers to a loved one with memory loss. These workshops are a great service to our community, providing very helpful information from various sources, including guest speakers.
About 3 years ago, my husband, Stan, was diagnosed with Alzheimer's.  I had no one to turn to for any support.  No one around me had ever dealt with Alzheimer's.  It was very comforting to talk to the staff at Thelma's Place and attend the support groups they offer.  Meeting people who understand what I'm experiencing as a caregiver, and really care, gave me hope and strength. I am especially grateful for the Minder's Keeper's Club, which is a great source of support to me. It's a great place for my husband to enjoy the company of other people with whom he can relate and, more importantly, engage in many different activities with the group; the staff there is very cheerful and friendly.  Stan loves the way the staff greets him; they always call him by name and that makes him feel special!
I also appreciate the respite time that Minder's Keeper's Club provides for me.  Like all caregivers, I need to take breaks from my tasks and have some time for myself. When I bring Stan to the Minder's Keeper's Club, I can rest assured knowing that he will get excellent care and have a great time interacting with the others there; this is an important factor in making my personal time more peaceful and relaxing.
Thelma's Place and the Minder's Keeper's Club is such a great asset to our community.
Many Thanks!
Jerry finds friendship, fun, and help with his Alzheimer's at Minders Keepers
Jerry Lane worked 46 years as an aeronautical engineer for United Airlines where he developed computer programs, read complicated blueprints, and designed programs for a variety of aircraft. He was extremely intelligent and independent, could fix any household appliance that broke down, and was a long distance runner completing 5 marathons in his lifetime. He was a very quite guy who never sat still and was on the move constantly encouraging his wife, Joan, to keep up with him. He spent hours each day researching the Internet and playing computer games. He was the go to guy to fix the computer. That the the "old" Jerry.
Meet the "new" Jerry who was diagnosed with Alzheimer's disease two years ago. Jerry now has no interest in the computer and can't remember how to respond to emails. He tried to fix the vacuum cleaner recently and had it in so many pieces it had to go the repair shop. He can't understand TV programs and gets confused about what's real and what's just part of the TV show. His things come up missing frequently and he's sure someone has come into their home and stolen them. He can't communicate very well, so sits endlessly by his wife's side as she reads or uses the computer without saying a word. When Joan gets up to go in the kitchen, Jerry follows closely behind her and stands as she works.
Jerry's wife of 17 years, Joan, says it's overwhelming sometimes to have him be so dependent. "It's as if he's attached to me during the day. I can't sit and read a book without him right beside me. I move about the house and he's constantly following me or calling my name if he can't see me. I knew I needed a break during the day so I began looking for and Adult Day Center for him.
That's when she found Minders Keepers at Thelma's Place with programs designed just for people experiencing memory loss.
Minders Keepers has been a blessing to both Jerry and Joan. "He's in a place where he has fun participating in mental and physical activities with new friends two days a week," says Joan. "He loves to go and comes home tired and happy. The best part for me is that I have 8 precious hours to myself each week. I drop him off at Thelma's Place where I know he is safe and sometimes I go to a sewing class, have lunch with a friend, or I just go bak home and take a nap. We are both much happier now."
To all the great staff members at Thelma's Place. Thank You so much for everything you have done for Philomena. Have a wonderful Christmas!
Dear Zori, Brenda, Dwayne, and Ellen,
I write this note to all of you to express my heartfelt thanks for the loving care you have extended to my dear Sue for nearly two years.
We learned of the ministry of Thelma's Place from our friend Marilynn Kolar, who brought her husband Dick to receive your kindness, and she spoke highly of you. So it was with confidence that I brought Sue starting in October 2017. I remember telling her that she was a "volunteer" to make things easier, but after a short time, that was no longer necessary, for she knew she had a place there where she had fun and met friendly folks.
Thank you for the happy greetings – "Good Glorious morning!" Thank you for the cups of cocoa and other treats, for games (dominoes, bingo, and more) and outings and lunch times and even a dog or two running through!
I am glad to recommend you to others that J know might be blessed with respite care. For this was not only good for Sue, it was good for me to have some personal space each week.
It is my hope that I might come back to visit now and then, and perhaps bring Sue too. For now she will begin living full-time at Trinity Blessed Care home in Oregon City, just a half-mile east of our house. The primary care-giver is Hermania Hunter, who has been doing this for 14 years.
May God bless your ministry. You are His hands, His ears, His heart of love in this place. Remember us in your prayers, as we shall remember you.
Yours with a grateful heart.